Casting Process
Professional Casting & Machining Provider
Casting Process
Sand Process
The Automatic Muller ensures the sand provision at the speed of 60 tons per hour with the most adequate quality.
| Characters Focused | Properties Tested |
| --- | --- |
| Moldability | Permeability |
| Permeability | Strength |
| Flowability | Moisture |
| Refractoriness | Clay Content |
| Collapsibility | Grain Fineness |
| Thermal Stability | Hardness |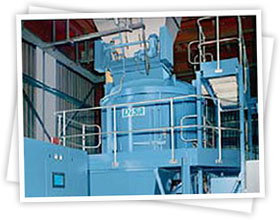 Melting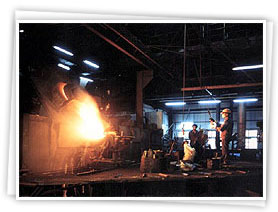 Induction Furnaces
Four 2-ton induction furnaces provide over 60 tons of iron melting per shift per day.
Adjustment
OMolten composition is continuously examined by using C.E. Meter and 13-element Spectrum Analyzer to ensure the adequate property of all gray and ductile iron.
Spectrum Analyzing
13 element spectrum analyzer
Melting is analyzed and properly adjusted before being poured into the sand molds.
Pouring
Castings with different compositions have their own temperature requirements. For example, the pouring temperature for FC 250 is no less than 1350 Celsius degree; thus, the the pouring time is very critical to avoid defective castings
Finishing
Sand Blasting
Powder Painting
Machining
In house machining ability provides innovative, practical, and top-quality well-machined products. Machining equipment includes
Vertical Machining Centers: 13
CNC Lathes: 38

MAZAK MAZATEC H-500/50N Flexible Machining System(F.M.S.)
2 horizontal machining centers with 32 pallets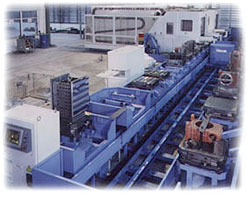 Quality Control
Keeping our customers satisfied is the reason of our success for the past 50 years. Because of our dedication to excel quality requirement of our customers, we have the reputation of a company with high-quality products. All examinations including Spectrographic Analysis, Brinell Hardness Test, Metallographic Analysis, Elongation and Tensile Test, and Coordinate Measuring are thoroughly performed in house in accordance with the requirement of IATF - 16949.
Spectrographic Analysis
Spectrometer Analyzes composition including Carbon, Silicon, Sulfur, Phosphorus, Manganese, Nickel, Chrome, Molybdenum, Vanadium, Copper, Titanium, Magnesium, and Ferrum.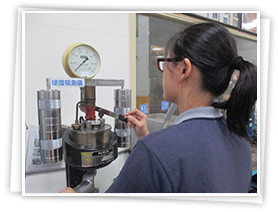 Metallographic Analysis
Metallographic Analysis are performed to examine the structure of finished products. Analysis includes nodularity and ferrite rating of ductile iron, and graphite type and size of gray iron.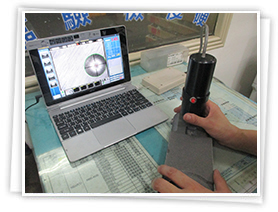 Elongation and Tensile Test
Universal Test Machine examines the elongation and tensile rates of test bars to ensure the accurate mechanical properties.
Coordinate Measuring
Engineer uses the coordinate measuring machine to measure the dimensions of machined product.